In the world of recovery and addiction, one of the million dollar questions has always been: Can we ever get to a point where we can predict an overdose before it happens? Science and technology often enter that conversation, which may soon have an answer. According to new research shared by The Quartz, Google could be the tool to make this hope a reality.
Though still far from definitive, scientists are studying the possibility of using internet search history to prevent an OD. Currently, due to the enormous amount of opioid-related fatalities, the focus has been on heroin overdoses. California researchers declared in the Drug and Alcohol Dependence Journal that Google queries for specific drugs (including slang terms) have shown a correlation to heroin-related hospital visits.
Their research used data from nine U.S. metropolitan cities and focused on Google searches for opioids, referencing both prescription and "street" terms. That was then matched to heroin-related ER visits from those regions during the period of 2004 to 2011. Words that accounted for the most matches included "Avinza," "Brown Sugar," "China White." "Codeine," "Kadian," "Methadone" and "Oxymorphone" (all common among heavy users). In total, these terms could explain 72 percent of the variation of heroin-related hospital visits. The higher number of searches per keyword, the higher the overdose count.
Details of the correlations were released in graph from on the Scientific American website. Below, you can see breakouts within cities like New York, Chicago and Boston.  San Francisco (the closest region to Southern California) had strong usages of the terms "Brown Sugar" and "Methadone," in particular.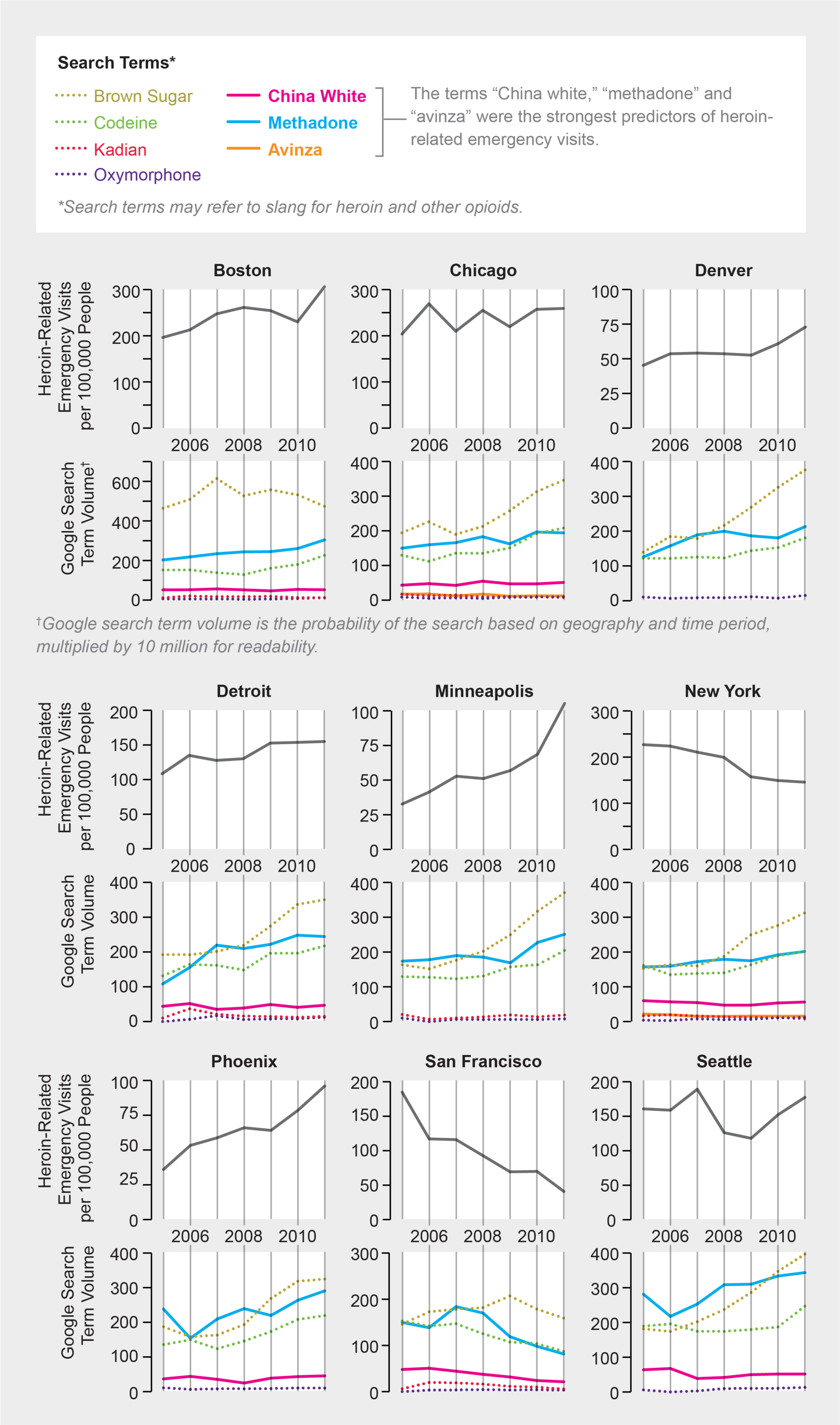 It is worth noting that some of these terms can have alternate meanings and this isn't a perfect science. "Brown Sugar," for example, could also be searched by bakers. Still, several influential researchers have been intrigued and excited by these analyses. Jeanine Buchanich, a University of Pittsburgh biostatistician, told the Journal that this data certainly merits further investigations.
"This paper highlights the need for new, innovative approaches to analyzing data related to the opioid epidemic." Buchanich added. "It does have the potential to become information that could aid local interventions and save lives."
And for the record, this type of work has seen success in the past. Similar Google search studies were done to predict suicidal behavior and that has already gained acceptance by the scientific community. There are, of course, additional privacy hurdles to overcome with this type of research as well. But let's hope this forward type of thinking continues. If we have the tools to predict and possibly prevent an overdose, why not use them to the best of their abilities?